Our entire class schedule is available online and we encourage reservations as classes tend to fill up.
If space is available, drop-ins are welcome.
DRENCH
Style: Boot Camp / Trainer's Choice
What to Expect: Anything goes - our trainers really let their individual styles shine! At its core, Drench is hard-hitting mix of cardio, resistance and flexibility training.
What It's Not: A class that emphasizes heavy-weight lifting, so no barbells will be used. Drench is high-volume, so expect invertals with lots of reps!
Who It's For: People who love variety and fast-paced workouts, as well as those who get bored easily! This class will keep you on your toes and leave you drenched in sweat.
JACKED
Style: Weights
What to Expect: A slower-paced class that emphasizes form and building strength. Barbells are used in every class.
What It's Not: A class for those who want to improve cardio conditioning, or push their heart rate to the max.
Who It's For: Jacked is appropriate for NEW and ADVANCED lifters. If you are new to lifting, you will benefit from detailed explanations of form and basic understanding of lifts for different muscle groups. If you consider yourself an advanced lifter, you will benefit from programming that will help you reach your PR on bench press, or expert cueing that will help you finally nail your perfect form on deadlift.
BURN
Style: Cardio
What to Expect: High-intensity cardio intervals that aim to take you to EPOC (Excess Post-Exercise Oxygen Consumption), which supercharges your body's ability to burn calories for 24 hours after your workout. Expect rowing, biking, plyometrics and bodyweight movements.
What It's Not: For the faint of heart. This intense class will push you to your limits.
Who It's For: Burn is for those looking to supercharge their fat-burning capabilities, improve heart health and boost stamina.
JACKED + BURN
Style: Weights + Cardio
What to Expect: Our class is split down the middle: the first half of class focuses on weight training using barbells, dumbbells and/or other weights. The second half focuses on cardio, such as rowing, biking and sprinting, and will get your heart racing!
What It's Not: A class for those who only want cardio (BURN) or weightlifting (JACKED).
Who It's For: Those who want a well-rounded workout - experience the benefits of muscle-building strength training, and fat-burning cardio all in one!
TONED
Style: Yoga + Weights
What to Expect: Traditional yoga flows supercharged with free weights and cardio intervals in a heated room.
What It's Not: A relaxing yoga class that emphasizes deep stretching and holding poses (see YOGA).
Who's It For: This class is great for those who are looking for a new workout challenge, and want to tone their entire body.
ALIGN YOGA
Style: Slow Flow
What to Expect: In ALIGN, you will learn yoga fundamentals. Expect a focus on basic poses, plus a simple flow in a gently heated room.
What It's Not: An intense yoga workout (see POWER or TONED)
Who It's For: Great for beginners, and those looking to build a mind-body connection and increase flexibility.
POWER YOGA
Style: Power vinyasa flow
What to Expect: In POWER yoga, stretching meets strength with an emphasis on refining the core. This class takes place in a heated studio.
What It's Not: A yoga class for those wanting a slower flow or to learn the basics (see ALIGN)
Who's It For: Great for those who are familiar with yoga basics and want a challenging, heated workout.
SUSPENSION
Style: TRX
What to Expect: Challenging full-body workout using TRX straps and bodyweight-only moves.
What It's Not: A class where you can get away with sloppy form - technique is key.
Who It's For: Perfect for those looking improve core strength, balance and performance. Suspension can help you surpass fitness plateaus by improving your form and stability, or help you work your way up to weightlifting.
BOXING
Style: Boxing
What to Expect: Practice punching drills using bags and/or partner work. Expect bursts of core strengthening exercises and HIIT intermixed between boxing rounds. Gloves are provided.
What It's Not: A class where you have to worry about getting hit! We use bags and punch mitts.
Who It's For: For those who want a full body, stress-reducing workout, and to leave feeling like a champ! Both newcomers and experienced boxers are welcome.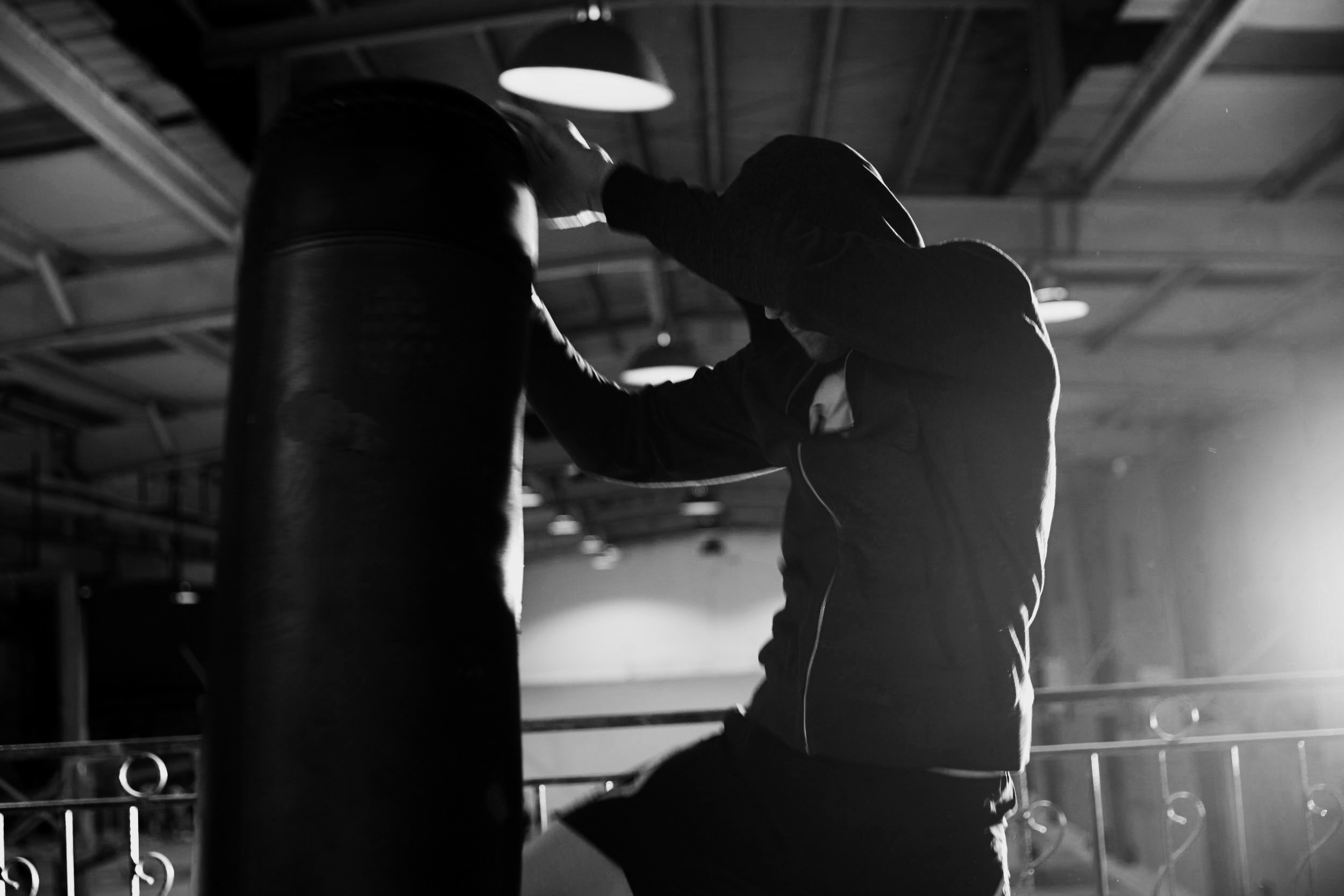 BOXING FLOW
Style: Boxing to the beat
What to Expect: A fun and energizing class that mixes boxing elements, cardio intervals and core work, all synchronized to music.
What It's Not: A boxing fundamentals class (see BOXING).
Who's It For: Those who enjoy moving to the beat and breaking a sweat!
Cardio Kickboxing
Style: High-energy Kickboxing
What to Expect: A flexible class that integrates combinations of punches, kicks and heavy bag work, plus exercises to strengthen and tone.
What It's Not: A slow-paced class.
Who It's For: For those who want a full body, stress-reducing workout, and those looking to improve overall fitness and stamina.
GRIT
Style: Calisthenics
What to Expect: This calisthenics-inspired class is the perfect way to refine your ninja skills! By utilizing gravity, resistance and total body control, you will increase your ability to build superhuman strength.
What It's Not: A high intensity cardio class
Who It's For: Those who have goals of achieving their first pull up, handstand or pistol squat, or for those looking to level up in general. No experience necessary.
OPEN GYM
We get it. Sometimes life gets in the way and our class schedule doesn't align with yours. Our Open Gym hours offer the freedom to work out on your own time and your own terms.
Depending on the time of day, either our main group studio or our smaller second room will be open for you to lift weights, work on some cardio on the rowers or bikes or use any of our other equipment to create your own workout.
These sessions are exclusively for Unlimited Group Fitness members as well as Private Training clients. If you have a trainer, you will have access to these sessions to get in your assigned workouts on your own time!